The Genshin Impact 3.5 Special Program Livestream has concluded, revealing new characters Dehya and Mika, new events, and lots of Intertwined Fate for everyone! If you missed the Genshin Impact 3.5 Special Program livestream, here's a recap of everything new coming to the update.
Genshin Impact 3.5 Livestream Recap
The VOD of the Version 3.5 Special Program Livestream can be found here.
New Character – Dehya
"The Eremites," a loosely-organized mercenary organization, is Sumeru's most powerful armed force. They consist of many mercenaries and bands of warriors-for-hire who carry out assignments independently.
One such brigade is the "Blazing Beasts," whose most renowned member is Dehya, also known as the "Flame-Mane."
We initially meet Dehya in the middle of our journey in Sumeru, and she accompanies us until the end of the Archon Quest. Now, the Flame-Mane Eremite will finally become playable!
"Flame-Mane" Dehya is a 5-star Pyro Claymore character revealed on the Genshin Impact Version 3.5 Livestream to be playable on the same version. Learn more about Dehya and her Skills, Constellations, and more here.
New Character – Mika
"Mika, who is a member of the Knights of Favonius Reconnaissance Company, always diligently fulfills all the duties that come his way.
Setting up tents, lighting fires for cooking, repairing equipment… Even Hertha, the logistics captain, has nothing but praise for Mika's excellent efficiency."
We only had a glimpse of Mika a couple Versions ago, during an event. Now, players who want to know more about him can now do so with his reveal as a playable character!
"Coordinates of Clear Frost" Mika is an upcoming 4-star Cryo Polearm character. You can learn more about Mika here.
New Weapon – Beacon of the Reed Sea
The Beacon of the Reed Sea is a 5-star Claymore and is Dehya's signature weapon. It's meant to be her best-in-slot weapon as well.
Stats at lv90:
ATK: 608.07
Bonus CRIT Rate: 33.08%
Desert Watch: After the character's Elemental Skill hits an opponent, their ATK will be increased by 20/25/30/35/40% for 8s. After the character takes DMG, their ATK will be increased by 20/25/30/35/40% for 8s. The 2 aforementioned effects can be triggered even when the character is not on the field. Additionally, when not protected by a shield, the character's Max HP will be increased by 32/40/48/56/64%.
New Weapon – Mailed Flower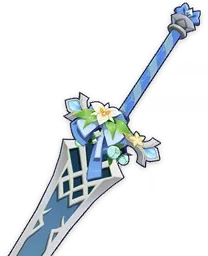 The Mailed Flower is a 4-star Claymore and can be earned for free in the Windblume's Breath Event.
Stats at lv90:
ATK: 564.78
Bonus Elemental Mastery: 110.26
Whispers of Wind and Flower: Within 8s after the character's Elemental Skill hits an opponent or triggers an Elemental Reaction, the character's ATK and Elemental Mastery will be increased by 12/15/18/21/24% and 48/60/72/84/96 respectively.
Genshin Impact 3.5 Banners
The first phase of Genshin Impact 3.5 banners will feature this update's new 5-star character, Dehya, along with a rerun for Cyno. After the 3.6 update, Dehya will join the standard wish "Wanderlust Invocation" pool.
The second phase is dominated by Cryo characters with Kamisato Ayaka and Shenhe reruns in the "The Heron's Court" and "The Transcendent One Returns" banners respectively. Mika will be a featured 4-star in both of these banners.
As for Weapon Banners, the first phase is expected to have the new weapon, the Beacon of the Reed Sea, along with Staff of Scarlet Sands. The second half will most likely feature the Mistsplitter Reforged and the Calamity Queller.
Each phase is expected to last three weeks each, as with previous banners.
Intertwined Fates from Archon Quests
Archon Quests will now award an Intertwined fate and other various rewards upon completion. The rewards can be claimed by opening the Adventurer's Handbook and going on the Guide tab.
Genshin Impact 3.5 Events
Windblume's Breath
Genshin Impact 3.5's main event! Split into three game modes, Windblume's Breath celebrates Mondstadt's Windblume Festival.
"The honeyed scents of the Windblume Festival are wafting upon the winds again. During this festival of unparalleled romance, why not come to the city upon the lake for a spell and learn to follow the floral fragrances riding the winds of freedom? From a note most accidentally discovered, embark again on a journey most fantastical."
Fungus Mechanicus
In a corner of Port Ormos, you and Paimon encounter friends whom you made during the inaugural Nilotpala Cup Beast Tamers Tournament. They are currently preparing for the next tournament, and to that effect have come up with a new game with which to advertise for the Beast Tamers Tournament…
Vibro-Crystal Verification
An engineer from Fontaine has arrived at the outskirts of The Chasm to study the harmonic motion between gems known as Vibro-Crystals in an effort to clear the name of his colleague, who had been accused of faking his data.
Connect Transmitter and Receiver Crystals and attempt to produce various effects that will allow you to defeat your foes with ease.
Spices From the West: Northerly Search
A familiar face has shown up at Good Hunter. Help her complete her research, and fine rewards shall be yours…
New Archon Quest – Chapter III Act VI: Caribert
The Archon Quests continue in Genshin Impact Version 3.5 with the Traveler Act in Chapter III, titled "Caribert." The livestream hinted that the name Caribert will be a key element in this Archon Quest.
As always, Dainsleif is involved in anything Khaenri'ah. This Archon Quest will help us learn more about The Abyss and the mysteries of Teyvat. Furthermore, Kaeya may also have involvement in this Archon Quest.
New Story Quest – Mantichora Chapter: Act I
In time with the addition of "Flame-Mane" Dehya as a playable character, we can also learn more about her in her Story Quest "Mantichora Chapter: Act I."
New Hangout Event – Faruzan
RECOMMENDED
Franz Christian Irorita ·
Franz Christian Irorita ·
Hangout Events introduces Series VIII, featuring the Sumeru Akademiya's Faruzan! Spend time with her and learn more about the Akademiya and Faruzan herself through the multiple routes of the Hangout Event.
New Enemy – Abyss Herald: Frost Fall
A monster from the Abyss Order that wields frigid, icy blades in battle.
Just as there are saints who will spread and glorify the profound gospel, there are envoys who must correct any twisted strains and remove any dissonance.
People often say that steel feels like ice as it pierces the body, but this dark frost is said to freeze even the soul.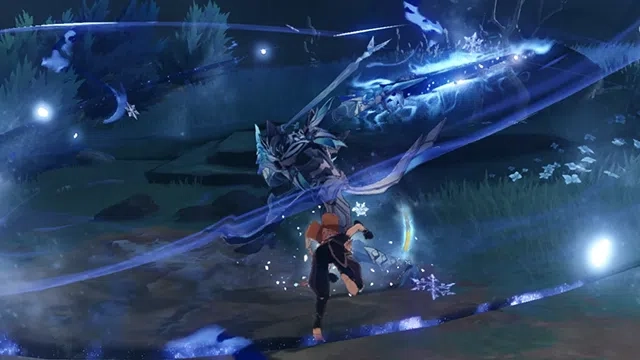 An Abyss Order monster that uses a dark power to command ice and frost in battle. Some of its attacks decrease the Stamina of characters when they deal DMG against them.
New Enemy – Black Serpent Knight: Rockbreaker Ax
A guard of some standing in the court, sundering the foes of the nation's rulers using a sword art known as "Truthseeker."
Though Truthseeker is, strictly speaking, a sword art, but its teachings can also be used with various other weapons — and in the realm's darkest hour, those who had to protect their homeland had little room to be fussy anyway.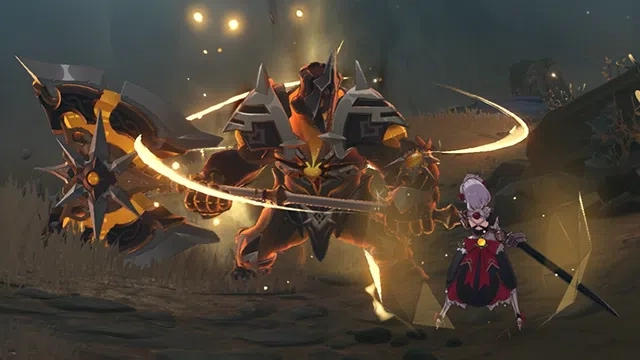 This seems to have once been a trusted guard of high standing in some land who wielded the power of Geo. Its attacks become stronger and fiercer when they hit shielded characters, at the cost of its own health.
Genius Invokation TCG – Heated Bttle Mode
A limited time game mode called "Heated Battle Moded" will be available in Genius Invokation TCG in Version 3.5. This will focus on reducing the cost of Elemental Dice. The number of Elemental dice required to play the first card from your hand every round will be reduced by two, the number of Elemental Dice required to use the first character skill each round will also be reduced by one.
This will hasten Genius Invokation TCG games as players can stack up their Elemental Skill faster and play more cards per round.
The Genshin Impact Version 3.5 update is expected on Wednesday, March 1st, 2023.