5 Luka Doncic 1-of-1 cards that will blow your mind
It's pretty hard to bet against Luka Doncic when the new NBA season kicks off. Since 2018, the Slovenian All-Star has been on an incredible upward trajectory, one that has many rooting for him to bag the MVP award. But Doncic isn't just excelling on the court. He's also taking over the hobby as well.
Proof of his dominance in the card market is how well his stock has been performing. His 1of-1 cards, in particular, are an instant hit as soon as they are released. We take a look below at five Luka Doncic cards that fall under this category.
Luka Doncic cards that'll blow your mind
2020 Select Courtside Black White Gold
Panini's Select Basketball set has been killing it lately. With its first foray into retail formats, the said product has become more accessible to collectors. Among the hits that have left everybody drooling is this Courtside Black White Gold Luka Doncic card.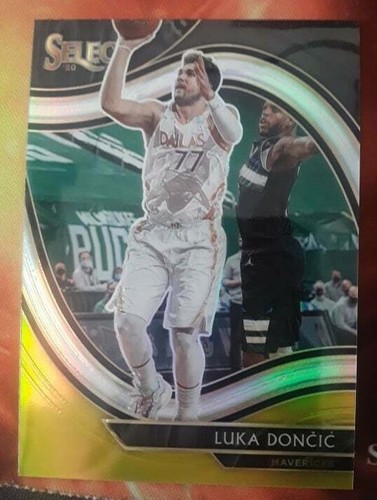 The card's dominant black and gold scheme is a captivating one, especially with someone of Doncic' caliber front and center. It also helps that it's a Courtside card, the rarest and most valuable of Select's three base card variations out there. And while it's the last among this list, the $10,500 value of this wicked pull is certainly nothing to scoff at.
2019 Black Friday Diskettes
Although Panini's Black Friday product isn't as widely available as their other sets, it still has a lot of potential for collectors. These cards, which consist of different sports, are offered online and via in-store promotions only. Of course, among the standout cards from 2019's set is one that features Doncic on it.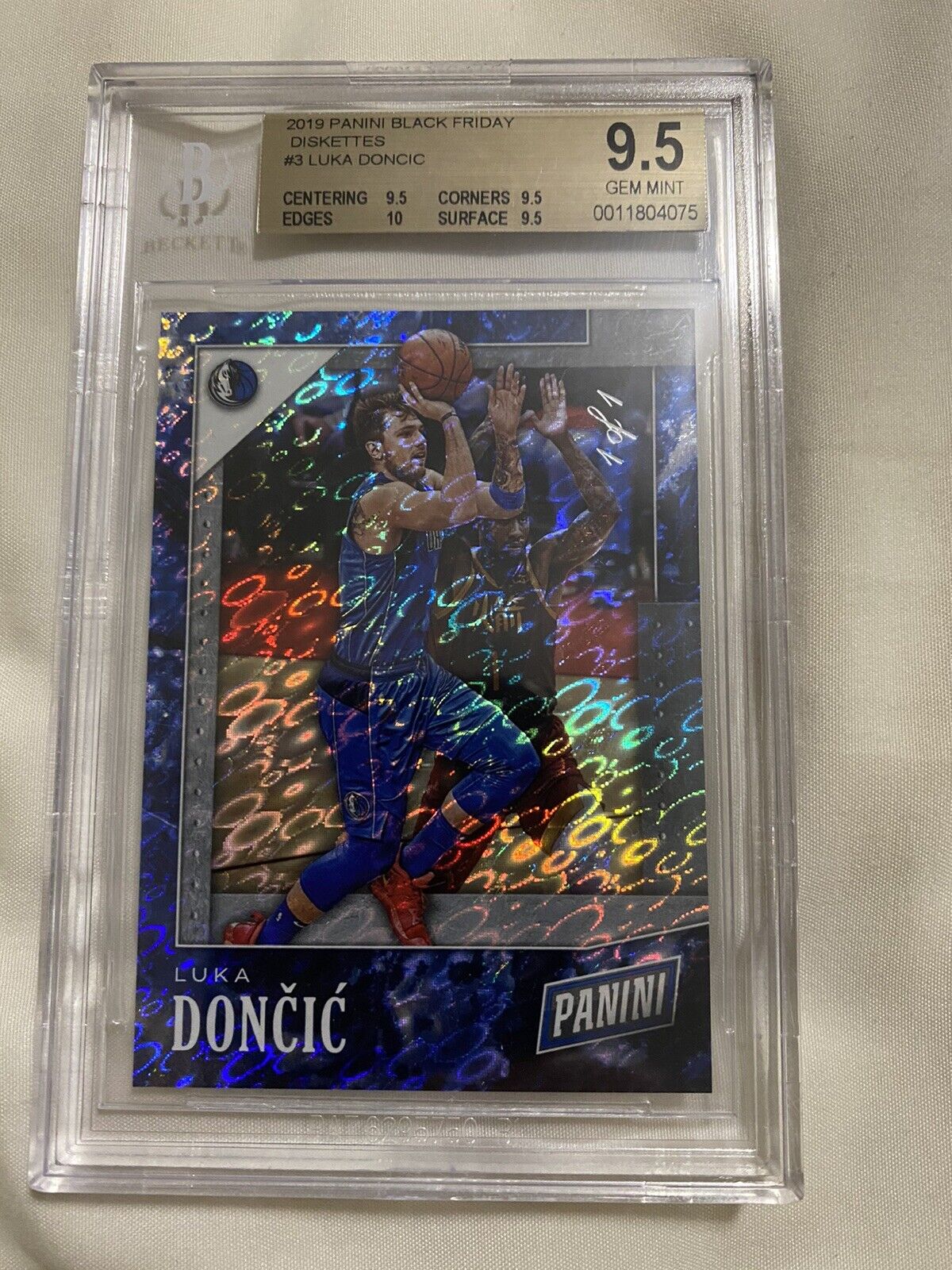 His Black Friday Diskettes card is a marvel to look at. Apart from its One of One status, it renders the Dallas Mavericks' All-Star guard in an eye-catching look that will surely turn heads around. That's why it isn't surprising to know that a gem-mint BGS 9.5 slab of this card is worth $15,000 right now.
2019 Optic Gold Vinyl
Doncic's second year in the NBA saw him ascend to a level most people didn't expect him to reach so quickly. As he was stacking up the numbers and breaking records, so was his stock in the card market as well. Proof of his card dominance is this beautiful Gold Vinyl card from Panini's 2019 Optic set.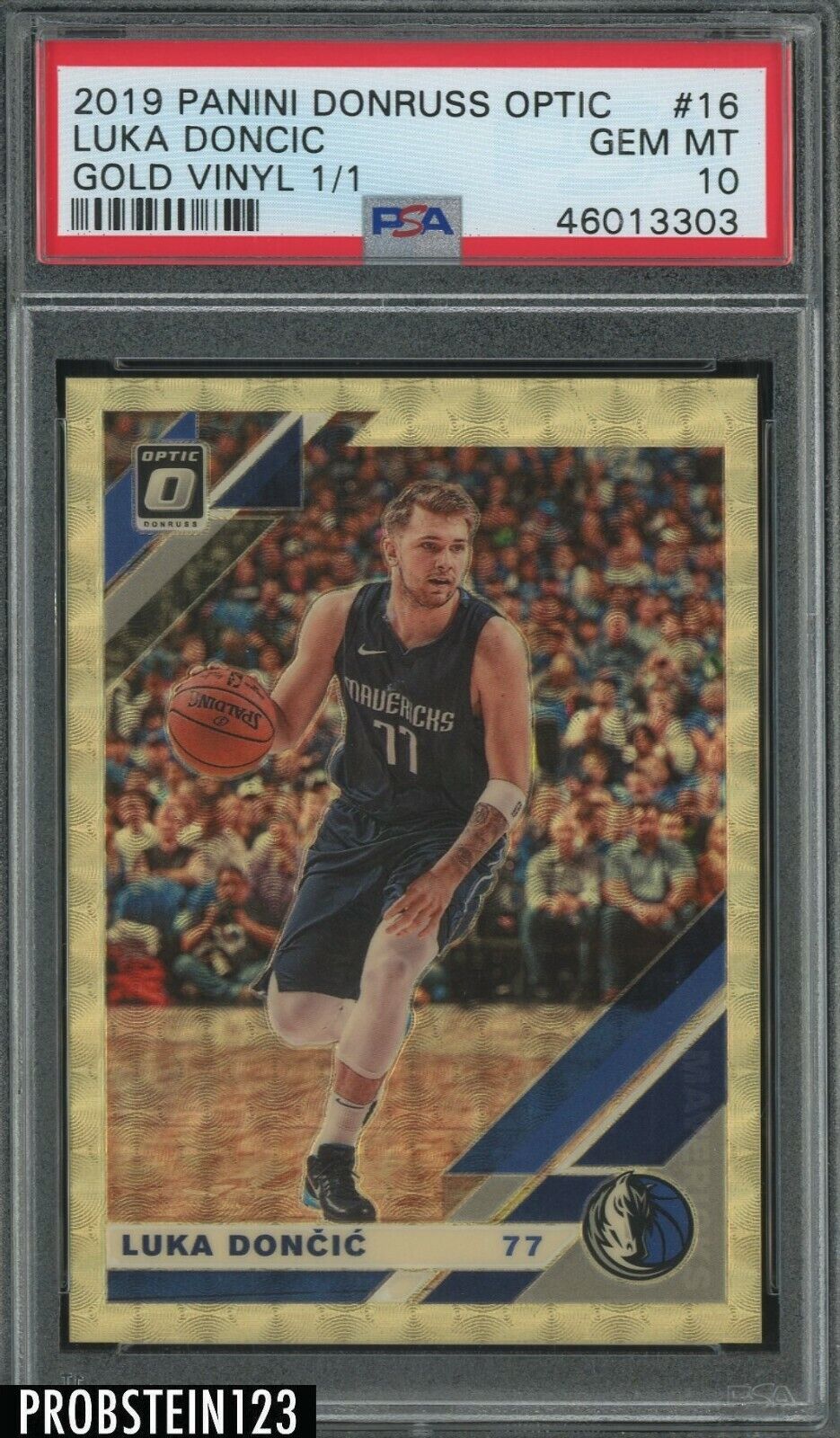 The card's gold-centric design, paired with a One of One badge at the back, makes it a must-have for any true collector. But be warned, though, because this jaw-dropping Luka Doncic card recently sold for $66,000 on eBay.
2019 Immaculate Logoman
There are a few cards that command a huge deal of respect and awe in the hobby today. Among them is Panini's Logoman patch cards. And while there are some NBA stars who are featured on this type of card, there is only a handful deserving of the honor. One of them is Doncic.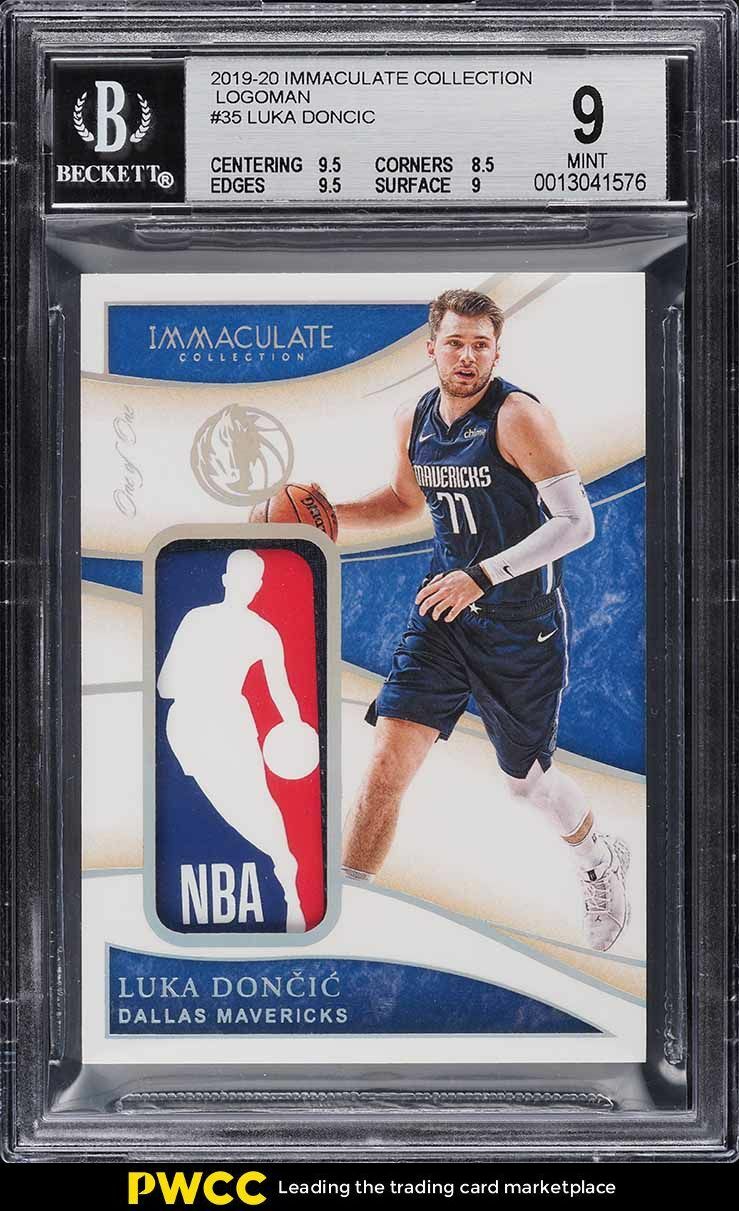 That's why it's a no-brainer his 2019 Logoman patch card from Panini's Immaculate set has set the market on fire. The card's clean look and the dominant positioning of both Doncic and the patch itself makes it a really valuable piece of sports memorabilia. The market thinks so too and has afforded this rare Luka Doncic pull with a worth of $2.5 million.
2018 National Treasures Logoman Rookie Patch Auto
Standing tall above every other Luka Doncic One of One card is this monster from Panini's 2018 National Treasures set. For starters, it was released during the All-Star's first year in the league, making it a true rookie card. It also features a Logoman patch and Doncic's on-card signature.
While it isn't graded yet, the value for this monster pull is definitely mind-blowing. It was sold via a private transaction a few months ago to the tune of $4.6 million. This makes it one of the most expensive sports cards in the whole world and among the most coveted by anyone in the entire hobby.
Now into his fourth year in the league, Doncic is setting his sights towards making another massive leap. And as he does that, expect these One of One cards to do the same. Better scope the market out for those amazing deals hiding so you can get into the action before the new season starts.