The Utah Jazz weren't supposed to be this good. Not right away, at least. The offseason brought them the departure of Gordon Hayward, a two-way stud who represented the team's only option for forcing the issue offensively. They effectively swapped George Hill for Ricky Rubio, arguably a net negative given the team's glaring lack of spacing and shooting.
Utah's only real addition they made came in the form of 13th overall pick Donovan Mitchell, who solemnly watched on draft day as Zack Collins, Malik Monk, and Luke Kennard were selected before his name was finally called.
Yet here they are. Utah finished with the fifth-best net rating in the league, comfortably ahead of teams like the Boston Celtics, Cleveland Cavaliers, and their first-round adversary, the Oklahoma City Thunder. And while Rudy Gobert remains, without question, their strongest asset, it's the unconventional pairing of Rubio and Mitchell that has fueled the league's most surprising motor.
The Aggression of a Non-Scorer
For all his virtue, Rubio has never been a scorer. The 13.1 points he's averaged this year are the highest of his career by a sizable margin yet were just 23rd in the league for his position. His efficiency—53.7 true-shooting this year—has never inspired basketball bards to craft poems lauding his abilities.
But while most poor scorers prioritize hiding on offense, Rubio does the opposite. Instead of passivity, Rubio embraces the aggression of his position, even while recognizing his limitations. For Rubio, aggression is a tool on his belt; while visions of prime Rajon Rondo dance in his head, Rubio attacks not to create his own offense, but to cause a defensive reaction that leaves part of his opponent vulnerable for an unsuspecting attack.
In Saturday's Game 3, Rubio took this approach to the Thunder on the first possession of the game.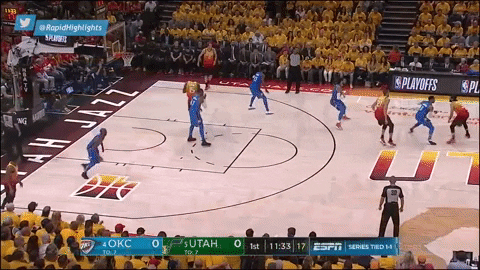 At first glance, this play looks slightly disjointed. In reality, it's Rubio playing chess against an elite defense that is suddenly chasing its own tail. With Gobert lurking near the perimeter, Rubio easily blows by Russell Westbrook and heads straight towards Gobert, forcing Steven Adams into perimeter defense mode. This leads to Mitchell's man, Corey Brewer, sprinting into the lane to help on Gobert, leaving Mitchell abandoned in the corner.
Rubio waits for each defender to commit in one direction or another, before a last-second pass to Mitchell. Brewer, trying to recover back to his man, has all his momentum going towards the stands by the time the rookie catches the ball, already in motion towards the rim. They pass like trains in the night, and one of the league's most thunderous athletes suddenly has a clear path to the hoop.
While each possession represents a different iteration, the essence of the Jazz offense is displayed in that clip. Rubio's aggression damages the armor, while he and Gobert form a diversion. Mitchell, lurking in the shadows, comes in when the opponent is most vulnerable, and attacks with a combination of merciless athleticism and poetic fluidity.
A few minutes later, Rubio shows a modification of Utah's schematic bread and butter: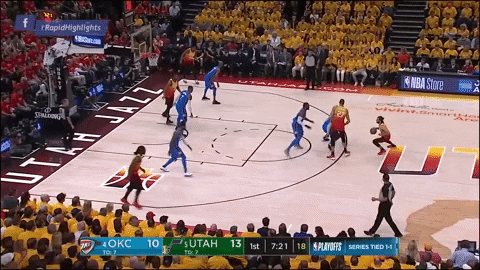 Rubio starts with a high screen from Gobert, which stands as the launching board for most of Utah's sets. On the year, Gobert averaged 1.28 points per possession in the pick and roll, good for the 87th percentile. The threat of this action is the focal point of the offense, and dictates the Thunder's defense. Westbrook and Patrick Patterson swarm Rubio, while Brewer again leaves Mitchell to help on the rolling Gobert.
Here's where Rubio's next-level playmaking shines. With all the patience of a kindergarten teacher, Rubio waits until Gobert's action is complete, which draws Carmelo Anthony—the Thunder's lone defender left on the weakside—further into the paint. With the defense right where he wants them, Rubio whips the ball crosscourt to Mitchell—a pass few players can effectively make—and Utah's foot is firmly on the throat of Oklahoma City.
It's hard to beat talent
For all of Rubio's wizardry, Utah's atypical offense works in large part because Mitchell has already established himself as one of the league's most emphatic and violent scorers. The rookie's raw abilities have opened a cavalcade of doors for Rubio and coach Quin Snyder, thus allowing the Jazz to throw idiosyncratic sets at an unsuspecting defense.
One of Utah's most pleasing plays on Saturday came from something truly offbeat: a 2-1 pick and roll.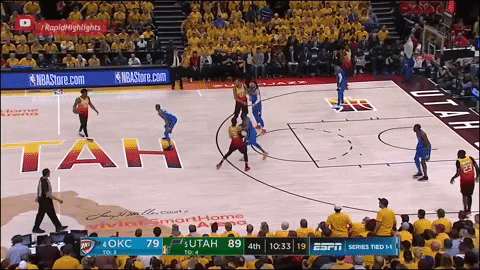 With Mitchell handling the ball, Gobert advances towards the three-point line, effectively acting as an enormous decoy. But instead of accepting a screen from his center, Mitchell dribbles towards Rubio, one of the elite screen-setting guards in the league.
Admittedly the Thunder don't display idyllic coverage, but they're in trouble regardless. Rubio's wide frame removes Brewer from the picture, and all Mitchell needs is a slightly off-balance Raymond Felton for it to be lights out.
Despite his balletic finesse, Mitchell is, at heart, a running back in sneakers. His acceleration from a standstill would make Enzo Ferrari grin from ear to ear. All he needs is a small hole provided by the offensive line—Rubio in this case—and he'll explode through it with abandon, far too quickly for any defensive recovery, as Felton and Adams quickly learned.
While playmaking is not yet a strength of Mitchell's, his dexterity in that category complements Rubio. For a non-shooter, Rubio is tremendous at moving without the ball. At times this confuses opposing teams, who seemingly expect him to stay glued to the three-point line, spacing the floor. But Rubio refuses to gel with that expectation. It plays beautifully alongside Mitchell's skillset.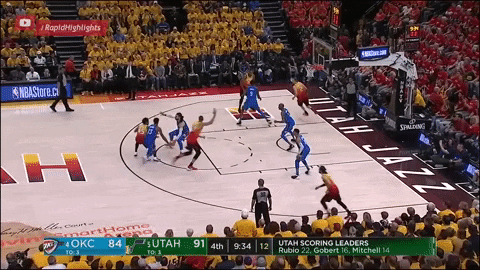 Mitchell's aggression draws a double-team, and Rubio springs into action. Rather than receding from the hoop to bail Mitchell out and reset the offense, Rubio curls around the perimeter, leading to an easy pass from Mitchell. Westbrook, assuming Rubio would stay in the corner or retreat to halfcourt, gets caught napping, and Rubio has no problem locating a high percentage shot.
Rubio is not a scorer, and Mitchell is not a playmaker. But the former's off-ball creativity, combined with the latter's gravity and aggression, form a deadly concoction, and one that Oklahoma City has struggled mightily with.
Even when it doesn't lead to a Rubio shot, Mitchell using his point guard as an escape valve is highly efficient. The rookie can break down any defense off the dribble, so by the time he relinquishes the ball, the defense is sufficiently scattered. An out of place defense to Rubio is like the Matrix to Neo: an easily exploited opponent, with opportunity ripe for the picking.
The value of defensive compatibility
While the excitement of Rubio and Mitchell comes on the offensive end, Utah has made their mark with their stingy defense. Despite Gobert, a Defensive Player of the Year frontrunner, missing 27 games, the Jazz finished the season with the league's second-best defensive rating.
Just as on offense, Utah's fiery backcourt teammates complement each other on defense. Mitchell's supreme athleticism and absurd strength allow him to hang with the league's premier athletes, and tackle larger opponents in the post. Rubio's goaltender-esque wingspan, and borderline impeccable defensive fundamentals let him stay in front of nearly any player, while disrupting countless passes, and foiling numerous pick and rolls. Together, their complementary skills have wreaked havoc on opposing backcourts all year long, as they will for the foreseeable future.
It's 2018. Rookies aren't supposed to provide value and point guards with a career average of 10.8 points per game are assumed to be liabilities. And yet here we are, with Donovan Mitchell and Ricky Rubio—the NBA's odd couple—leading a Utah squad that no team wishes to face.