Clippers must pull the trigger on blockbuster trade for unhappy John Wall
The Los Angeles Clippers have had an up-and-down season thus far. It's pretty much been a roller coaster ride for the team, which at the moment, is in possession of an 11-10 record for the sixth spot in a very tight race in the Western Conference.
The Clippers had a horrendous start to their campaign after losing all but two of their first nine matches in October. They suddenly found their footing in November as they went on an eyebrow-raising seven-game winning streak to open the month. Since then, they have lost six out of their last nine games. To say that the team currently lacks consistency would be an understatement.
We're still just a quarter into the 2021-22 regular season but we've already seen a few holes in the Clippers' roster. As such, shaking it up at this point in the campaign—or perhaps more towards the February trade deadline—might not be too bad of an idea for LA.
There could be a few big names available in the market at the moment, but if the Clippers want to pull off a blockbuster deal that will certainly grab headlines, then they must turn their attention to the Houston Rockets' disgruntled star John Wall.
For what it's worth, Wall has already declared his intention to return to action for the Rockets. As a matter of fact, Houston is now working with the former All-Star to get him back into game shape in anticipation of an upcoming season debut.
Be that as it may, both Wall and the Rockets are still keeping their options open. Even though both parties are working towards an unexpected reconciliation, a trade away from Houston for Wall is still very much on the table. In this respect, the Clippers have to at least consider pulling the trigger on a possible deal.
A blockbuster trade between the Clippers and the Rockets was suggested by Bleacher Report's Dan Favale. In his scenario, LA will need to give up Eric Bledsoe, Serge Ibaka, and Luke Kennard in exchange for John Wall.
Since returning to LA this summer via a trade deal with the Memphis Grizzlies, Bledsoe just hasn't been able to live up to the expectations many have on him. He certainly isn't looking like the two-time All-Defense Eric Bledsoe who could drop 20 points at any given night. At 32 years old, the Clippers knew Bledsoe was already past his prime, but even so, he hasn't exactly given them much return on their investment.
Despite his long history of injuries, there's no denying that Wall would serve as a significant upgrade from Bledsoe— particularly in the playmaking department. So long as he's able to remain healthy (which is a big if), John Wall should be able to provide the Clippers with some much-needed firepower. Paul George has been nothing short of outstanding to start the season, but he clearly can't do it alone. Kawhi Leonard is in danger of missing the entire season, so a second scoring option (or third?) with the caliber of Wall can only be good for the Clippers.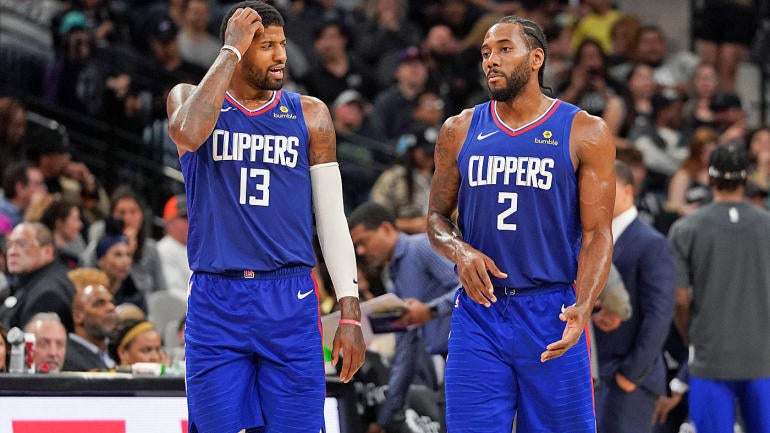 To some extent, Ibaka also hasn't been himself since returning from a back injury, so he too and his expiring deal could serve as a trade chip for the Clippers. Kennard, on the other hand, could be a bit trickier. The 6-foot-5 shooting guard signed a four-year extension with the Clippers last season which runs up to the 2024-25 campaign. He's still owed upwards of $40 million over the next three years (the final season of his deal is a team option) which will be a tough pill to swallow for Houston. Then again, that's still far less than what Wall is earning right now.
Speaking of John Wall's massive salary, this will likely be the biggest stumbling block not only for a potential deal with the Clippers but with any other team in the NBA. The veteran point guard is set to earn $44.3 million this season—and this is regardless of whether he plays. He then has a player option for next season which is worth a whopping $47.7 million. It would be an absolute shocker if he ends up declining that option next year.
The Clippers might be one of the few teams in the league that could be willing and able to take on Wall's gargantuan deal. It will take up a massive chunk of their salary cap and will also put their risk appetite to the test. The Clippers are definitely in win-now mode and if all things fall into place, then John Wall could turn out to be the missing piece to the championship puzzle.