When fans think of the NBA Draft, one of the first words that come to mind is "superstars." After all, the draft has produced some of the biggest names in basketball such as Michael Jordan, Earvin "Magic" Johnson, Larry Bird, LeBron James, Tim Duncan, Shaquille O'Neal, and more. But it has also produced some of the biggest NBA Draft busts in history for being selected so high yet yielding so little once they started playing. For every Michael Jordan, there is a Sam Bowie.
Having an unsuccessful basketball career, however, is not the end of the line for these players dubbed as "busts." The NBA players on our list have discovered that there is so much to life after basketball. Despite not being as financially rewarding, they have found careers outside the court.
Here are 10 NBA Draft busts who are now living successful post-basketball lives.
10. Luther Wright
18th overall pick by the Utah Jazz in the 1993 NBA Draft
Luther Wright is huge. Standing 7-foot-2, the Utah Jazz selected Wright as a possible impact player in the middle stages of the first round. Unfortunately, he only played 15 games for them averaging a measly 1.3 points. He was eventually diagnosed with bipolar disorder and was entered by the team into a mental institution.
But life got better for Wright. After being released from Essex County Hospital Center, Wright was to be paid $153,000 per year for 25 years under the terms of his contract with the Jazz, practically setting himself up for life.
What's more, Wright found life after basketball as a DJ going by the name Wright at the Rock. He is also fondly called the World's Tallest DJ. You can just imagine him playing at a club near you.
9. Steve Stipanovich
2nd pick overall by the Indiana Pacers in the 1983 NBA Draft
Being a second overall pick in an NBA Draft, one is expected to be a franchise player. Steve Stipanovich was anything but. Though he played well enough to warrant playing for an NBA franchise, he did nothing to justify his lofty status as a high draft pick, especially one selected over Clyde Drexler.
He averaged a respectable 13.2 points, 7.8 rebounds, and 2.3 assists in 403 games but it is not in the NBA where he would find his most success.
Stipanovich may not have found gold in the NBA, but he has found success as the owner and operator of a coal mine in St. Louis. Steve has learned to utilize his NBA earnings as a means to become a business owner instead.
8. Jonathan Bender
5th overall pick by the Toronto Raptors in the 1999 NBA Draft, traded to Indiana
Drafting preps-to-pros players became quite the fad in the late 1990s to the early 2000s. As a result, Jonathan Bender was picked much higher than he should have been. Though a serviceable player coming off the bench, his career was cut short by a number of knee injuries.
In 2018, Bender launched a brand new professional basketball league called the National Solo Basketball Associations (NSBA). The format is patterned after the UFC model where players play one-on-one rather than five-on-five. He also invented a resistance training device called the JB Intensive Trainer.
After a short-lived career, Bender is giving opportunities to others to play the game professionally outside of the NBA.
7. Eric Montross
9th overall pick by the Boston Celtics in the 1994 NBA Draft
Being 7 feet affords a player the benefit of the doubt when NBA teams select players in the draft. Such was the case for Eric Montross, who was also a formidable player for the University of North Carolina Tar Heels during his college days. But the NBA was another matter as he only averaged 4.9 points, 4.6 rebounds, and 0.7 blocks per game during his stint in the league, far from what you would expect from the ninth pick.
Montross didn't give up on his dream to work closely with the game that he loves. He is currently the color commentator for UNC, his alma mater, and is loving every minute of it.
6. Jay Williams
2nd pick overall by the Chicago Bulls in the 2002 NBA Draft
After Jordan retired, the Chicago Bulls had been looking for a new superstar to lead them to the Promised Land of an NBA championship once more. Jay Williams was supposed to be that player. One year later, Williams was fighting for his life in a career-ending motorcycle accident.
Williams differs greatly from the other players on this list, given that his career was cut short not because of his ability, but rather a tragic accident. In his one season with the Bulls, Williams averaged 9.5 points and 4.7 assists while playing 26.1 minutes a night.
Instead of hanging his head over the missed opportunity to play the game he loves, he is now an ESPN NBA analyst and he works as a motivational speaker.
Williams is also a published author after releasing his autobiography, "Life Is Not an Accident: A Memoir of Reinvention", in 2016.
5. Pervis Ellison
1st pick overall pick by the Sacramento Kings in the 1989 NBA Draft
The Sacramento Kings needed a savior and they thought they found it in Pervis Ellison. He looked the part in Louisville, but the NBA was another matter. Though he played 11 seasons, Ellison only averaged 9.5 points per game and 6.7 rebounds per game.
After learning much about the X's and O's during his time in the League, coaching became a passion for Ellison, who found new life after his retirement as a coach for the Life Center Academy in Burlington, New Jersey, giving back to the game in another arena.
4. Bryant Reeves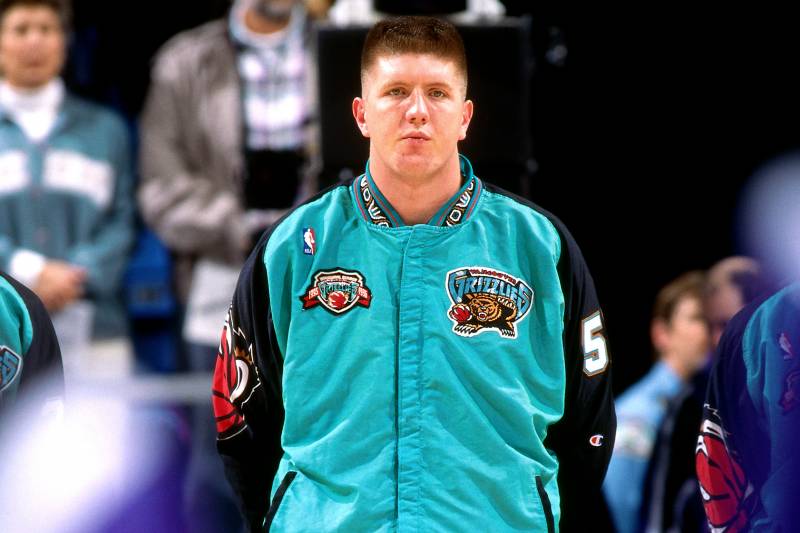 6th overall pick by theVancouver Grizzlies in the 1995 NBA Draft
"Big Country" invoked fear in the hearts of other NCAA players, as Bryant Reeves stood tall at 7 feet and weighing around 275 to 300 pounds. He became the first-ever pick by the expansion team Vancouver Grizzlies. Averaging a respectable 12.5 points, 6.9 rebounds, and 0.6 blocks per game throughout his career, more was required from Reeves.
Various injuries took its toll on Reeves as he was forced to retire after only six seasons in the NBA.
But Big Country found his second wind as a farmer. He purchased a 300-acre cattle farm in Gans, Oklahoma, staying true to his nickname.
3. Sam Bowie
2nd overall pick by the Portland Trail Blazers in the 1984 NBA Draft
Two words describe the downward turn of Sam Bowie's NBA career: Michael Jordan. Bowie was the player selected ahead of arguably the greatest player ever at a time when skilled big men were considered potential franchise players.
As skillful as he was, Bowie had a difficult time staying on the court as various foot injuries plagued him. He retired with career averages of 10.9 points, 7.5 rebounds, and 1.8 blocks per game, but he was never the cornerstone of a franchise.
However, Bowie found success training horses for harness racing after his NBA career ended. He may not be running with NBA centers up and down the court anymore, but Bowie has discovered a race that he can finally win.
2. Danny Ferry
2nd overall pick by the Los Angeles Clippers in the 1989 NBA Draft
The Los Angeles Clippers chose Danny Ferry in the 1989 NBA Draft, but he was shipped later to the Cleveland Cavaliers for fringe All-Star shooting guard Ron Harper along with two first-round draft picks and a second-round pick. What the Cavs didn't realize was that Ferry's multi-awarded college basketball career was his peak, as he struggled to make a name for himself in the NBA.
Ferry, though, carved out a successful career as an NBA Executive. He first worked for the Spurs' front office and was later hired by the Cavaliers as general manager. He went back to the Spurs years later, and became the president of basketball operations and general manager for the Atlanta Hawks in 2012.
After a buyout from the Hawks, Ferry worked as the New Orleans Pelicans' special adviser to general manager Dell Demps before the David Griffin era.
1. Darko Milicic
1. Darko Milicic
2nd overall pick by the Detroit Pistons in the 2003 NBA Draft
The 2003 NBA Draft is considered one of the best drafts ever in the game's history with LeBron James, Carmelo Anthony, Dwyane Wade, and Chris Bosh among the many luminaries in the star-studded draft.
Darko Milicic was expected to be one of them. Except the Serbian wasn't made for the pro game, as he ended his 10-year NBA career with passable averages of 6.0 points, 4.2 rebounds, and 1.3 blocks per game.
Milicic tried his hand at a kickboxing career instead, a far cry from his first career choice. Much like his NBA career, the big man didn't exactly become a household name in the sport either.
He eventually found his true passion in agriculture, as he now owns a 125-acre apple farm. Milicic ultimately wants to farm cherries now that he has found his place in this world as a 7-foot farmer.
Just like most of us, many NBA players didn't find their calling in their first career. Success could not be found by bouncing a familiar orange ball on the hardwood and shooting it into a hoop, at least at the highest level. They had to take a hard look at their current situation and decided to make the best out of what they had.
The end of their NBA career was really only the beginning for these men.