We are now only a couple of months away from the NFL Draft on April 25th. Teams are still doing their due diligence on every prospect that can be selected. The Los Angeles Rams are a team who holds seven draft picks currently. They were awarded a couple of compensatory picks from last free agency.
This is the first time that Sean McVay will have a pick in the first round in his two seasons. The Rams have a few needs—especially on the defensive side of the ball. Their needs include outside linebacker, safety, defensive tackle, and inside linebacker.
Here is my mock draft for all seven rounds of the NFL Draft for the Rams, including the compensatory picks given just recently.
Round 1, Pick 31: Brian Burns (OLB, Florida State)
The Rams biggest need this offseason is finding an edge rusher—regardless of what happens with Dante Fowler. Fowler was acquired midway through the season but didn't really play well until the playoffs.
The Rams could use someone like Brian Burns at outside linebacker. Burns played three seasons at Florida State, where he totaled 123 tackles, 38.5 tackles for loss, 23 sacks, and seven forced fumbles.
Burns really honed in on his game in 2018, where he had 52 tackles, 15.5 tackles for loss, 10 sacks, and three forced fumbles. Could you imagine someone as quick and savvy as Burns coming off the edge next to Aaron Donald? It could become a reality if Burns falls to the Rams in the first round.
Round 3, Pick 94: Joejuan Williams (CB, Vanderbilt)
With the impending free agencies of Marcus Peters and Aqib Talib next season, the Rams need to start thinking about drafting possible replacements. Joejuan Williams from Vanderbilt would be a nice selection in the third round.
At Vanderbilt, Williams amassed 119 tackles, 25 pass deflections, and four interceptions. All four of his interceptions came in the 2018 season, where he also tacked on 13 pass deflections and 61 tackles.
Williams would be a perfect fit in a Wade Phillips defensive scheme due to his size and physicality. Standing at 6'2″ and weighing around 210 pounds, Williams is a very physical cornerback and could excel in the NFL if he improves his technique and ability to play press coverage more consistently.
Round 3, Pick 99: Khalen Saunders (Western Illinois)
With Ndamukong possibly departing this offseason, the Rams will need to find a true nose tackle. An interesting prospect in this year's draft is Khalen Saunders.
Saunders is very athletic for his size and dominated at his level of competition. There aren't man guys who can do backflips north of 300 pounds.
One of the few problems that Saunders has is that he lacks technique—as he just used his strength to bully lesser competition. When he gets into the NFL he is going to have to improve on certain fundamentals to become well-rounded.
Some people don't believe Saunders can play in a 3-4 as a nose tackle but I'm fully confident he can. Watch his tape and you'll understand the buzz around him.
Round 4, Pick 133: Ross Pierschbacher (C, Alabama)
On the offensive side of the ball, the Rams biggest need is depth along the offensive line. They can find just that in the fourth round.
Alabama's Ross Pierschbacher is a possible candidate in the fourth round for the Rams. Pierschbacher played four years at Alabama where he mostly played center.
The Rams will need to find a replacement for John Sullivan—who is heading into the last year of his contract. Sullivan could possibly retire after this season but either way, the Rams need a solution.
Whenever you are looking for offensive linemen, the SEC is a nice place to look as they play against top-level recruits constantly. Drafting Pierschbacher would be smart due to his ability to play either guard or center in the NFL.
Round 5, Pick 169: Tyree Jackson (QB, Buffalo)
With the Rams needing a backup quarterback behind Jared Goff, it's likely the Rams will select one in the NFL Draft. This is due to Sean Mannion hitting free agency and it's unlikely they bring him back.
If the Rams select a quarterback, I expect it to come later in the draft in either the fifth or sixth round. Tyree Jackson out of Buffalo would be an interesting selection for the Rams in the fifth round.
Jackson played three seasons at Buffalo, where he threw for 6,999 yards, 49 touchdowns, and 24 interceptions. His erratic accuracy and decision making make him a developmental quarterback in the NFL. Under the tutelage of the Rams coaching staff, maybe Jackson could become a serviceable starter.
Round 6, Pick 203: Joe Giles-Harris (ILB, Duke)
Another need for the Rams this offseason is an inside linebacker. The Rams are likely to part ways with Mark Barron to create some cap room—which leaves a void next to Cory Littleton in the defense.
The Rams could select Joe Giles-Harris in the sixth round out of Duke. Giles-Harris was a redshirt junior, who made his mark in the ACC with 313 tackles, 32.5 tackles for loss, and 8.5 sacks.
In the NFL, Giles-Harris figures to be a true mike-linebacker who is excellent at stopping the run. He struggles in coverage but it helps the Rams to have Littleton next to him in the defense. Giles-Harris would be an ideal fit in the Rams scheme.
Round 7, Pick 245: Keelan Doss (WR, UC Davis)
The Rams could go in many different directions in the seventh round. I have the Rams getting wide receiver depth with their last selection in the NFL Draft.
Keelan Doss is the pick out of UC Davis, where he played for four seasons. In those four seasons, Doss had 321 receptions, 4,069 yards, and 28 touchdowns. I guarantee the Rams have watched tape on Doss—with him being a local guy.
Doss is a big body wide receiver who has excellent ball skills. His route running has room for improvement but he can make catches and has deceptive speed with the ball. The Rams don't need a starting wide receiver so Doss would likely be a special teams guy at first.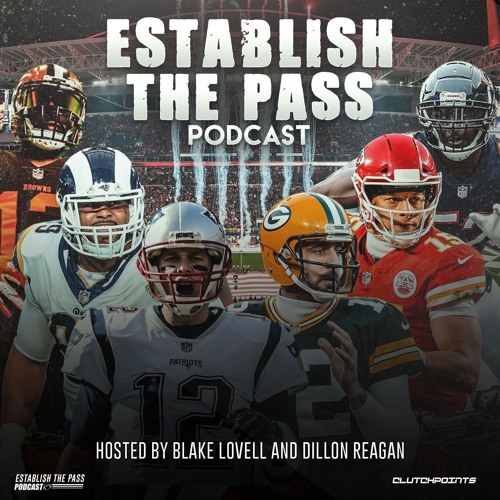 Week 6 Recap & Top Waiver Wire Pickups For Week 7 | CP NFL Pod