Four championships in an eight-year span. Not many professional sports organizations can say they have accomplished this. The Golden State Warriors joined elite company and formed this generation's NBA dynasty in 2022 when they once again won the Larry O'Brien championship trophy. A feat that nobody thought was possible after missing the playoffs in back-to-backs seasons, the Warriors proved that they were not going anywhere.
An offseason full of partying and celebration quickly turned into a season of chaos for the Warriors, as they ran into adversity every single day. From Draymond Green punching Jordan Poole in practice to Stephen Curry suffering a leg injury to Andrew Wiggins missing a chunk of the season due to personal matters, Golden State was dysfunctional. They did not appear to be the same powerhouse team just seen the the year before.
The Warriors limped to the end of the 2022-23 campaign with a 44-38 record only to run into more problems in the playoffs. It took them seven games and a 50-point performance from Steph to defeat the Sacramento Kings in the first-round and the defending champions were unable to get past the Los Angeles Lakers in the Western Conference Semifinals. The summer began early for the Warriors, a team that had been to the Finals six different times since 2015.
As a result, change was inevitable.
This offseason for the Warriors started with questions being asked about long-time executive Bob Myers' future with the organization, especially since his expiring contract had been a topic of discussion throughout the regular season. Before the NBA Draft, Myers announced that he and Golden State were parting ways, allowing him to step away from running a front office in the league in order to spend more time with his family.
Mike Dunleavy Jr. was quickly named the team's new general manager and he went to work right away on attempting to fix the roster problems. This led to what turned out to be one of the most shocking trades of the offseason with Poole and other assets being shipped to the Washington Wizards in exchange for 12-time All-Star point guard Chris Paul. Once a sworn enemy of the Warriors, Paul now joins Curry, Green and Klay Thompson in search of his first title.
Between Myers' departure and Poole being traded this offseason, it has become very clear that the "two-face" plan the Warriors had in place of trying to compete for championships while building a youthful core is now dead.
The only thing that matters to everyone in this organization is winning right now and only focusing on getting to the 2024 NBA Finals. Nobody knows how long this future Hall of Fame trio has left in the Bay Area, which is why the Warriors made it a priority to championships and championships only. Once again, Golden State carries a hefty tax bill and payroll into the 2023-24 season, but winning is the only thing that matters.
Owner Joe Lacob, Dunleavy and everyone within the walls of the franchise still believes they have what it takes to win their fifth title since 2015 and the moves they made this summer are reflective of this mindset.
Offseason additions and departures
Additions: G Chris Paul (trade – WAS), G Cory Joseph (free agency – DET), F Dario Saric (free agency – OKC), G Brandin Podziemski (draft), F Trayce Jackson-Davis (draft)
Departures: G Jordan Poole (trade – WAS), G Donte DiVincenzo (free agency – NYK), F Andre Iguodala (retired), F/C JaMychal Green (free agency), G Ty Jerome (free agency – CLE), F Patrick Baldwin Jr. (trade – WAS), G Ryan Rollins (trade – WAS)
When you look at how this roster changed in a matter of months, it is clear to see that the Warriors lost a lot. Aside from the missing scoring production from Poole off the bench, they also will be without Donte DiVincenzo. A versatile guard who could play his role exceptionally well on both ends of the floor, as well as be an off-ball shooting options alongside Curry and Thompson, DiVincenzo's presence on the wing will surely be missed.
It's also worth mentioning that Andre Iguodala's contract expired and he had told the team at the beginning of the 2022-23 season that this was it for him. At this time, there has been no word on if Iggy has actually retired or if he is keeping the door open for yet another potential return. The Warriors are not prepared to keep a roster spot open for the veteran, which is a loss given his leadership and relationships with the core of this team.
Paul coming to the Warriors fills this veteran leadership role left behind and since this team being one of the more experienced in the league, there is not a lot of mentorship that will be going on here. Golden State's only goal is to win another championship and to do so right away. At 38 years old, Paul's only goal at this point in his career is to win a championship. This is why the trade with the Wizards was made.
Last season, so much strain was put on Curry to carry the offensive burden of the team, especially with Wiggins being out due to personal matters and Thompson struggling with his shot late in the year. Not only was Steph tasked with scoring upwards of 30 points a night just to keep them in the game, but the two-time MVP was also the only facilitator and playmaker in the backcourt.
Early on, before we called the Warriors a dynasty, they were extremely dangerous because Curry and Thompson would run rampant around screens without the ball in their hands. While they still do this and continue to find a lot of success doing so, Golden State struggled to find someone who could be the primary ball handler and get the ball to their stars. Well, Paul certainly won't have a problem with this, as he is one of the greatest passers of all-time.
Paul had no problem playing off of Devin Booker with the Phoenix Suns through the years and when they added Kevin Durant last season, the veteran continued to find success in his secondary role. The Warriors are confident that he will gel right away next to Curry and Thompson, especially since Curry is more dangerous off the ball than bringing it up the court every single possession in one-on-one matchups. Having Paul create plays for others also takes pressure off of Draymond to do so.
What's intriguing about this acquisition of Paul is his contract. The $30.8 million on his contract for the 2023-24 season is more than the $27.4 million they were set to pay Poole, but Paul's contract gives the Warriors options. They can waive him with no penalty next offseason to save cap space since his contract is non-guaranteed, and the door is still open for this organization to make another big deal ahead of February's trade deadline.
At some point, rival teams are going to face injuries and some are going to be looking for a new option at point guard. Having Paul and his expiring deal is advantageous to the Warriors, especially since they could pull off a similar move they made with D'Angelo Russell in 2020 when they moved him for Andrew Wiggins. The flexibility Paul's arrival creates is what makes this a winning scenario or the Warriors.
Following this big trade with the Wizards, Golden State remained active in free agency. They quickly came to terms on a new four-year, $100 million contract with Green after he was receiving interest from other teams, and the Warriors also brought in two more veterans in Cory Joseph and Dario Saric.
Joseph has always been known to be a reliable backup point guard for his team and the 3.9 to 1 assist-to-turnover ratio he recorded this past season was amongst the best in the league out of players coming off the bench. Compare to Poole, who was turnover prone, Joseph gives this team a sense of comfortability and confidence since they know what they will be getting every single game.
Saric came back last season from an ACL injury he suffered in the 2021 NBA Finals and he played well. A secondary scoring option in the frontcourt who can play out on the perimeter, the 29-year-old will hold a similar role to what JaMychal Green and Nemanja Bjelica gave this team the last two years.
The Warriors simply went with "safe" options this offseason, bringing in players who are reliable. All three veteran additions will have big games here and there, but their production will be steady and predictable over the course of the regular season. This can be said about their two rookies in Brandin Podziemski and Trayce Jackson-Davis as well.
Both players are older, more experienced college players than the ones the Warriors have taken during the draft in recent years and they will not be asked to take on significant roles. Podziemski and Jackson-Davis figure to be plug-and-play type of role players as the season progresses.
We should not consider this offseason over just yet for the Warriors either, especially since they still own two open roster spots. There have been rumors of them targeting another big man behind Kevon Looney and former eight-time All-Star Dwight Howard is suddenly an option for them.
Depth is what every championship-aspiring team needs and the focus for the Dubs was adding experienced depth. They certainly have what they need to contend for another title and they will continue to look to their bench for secondary production.
Jonathan Kuminga, Moses Moody potential impacts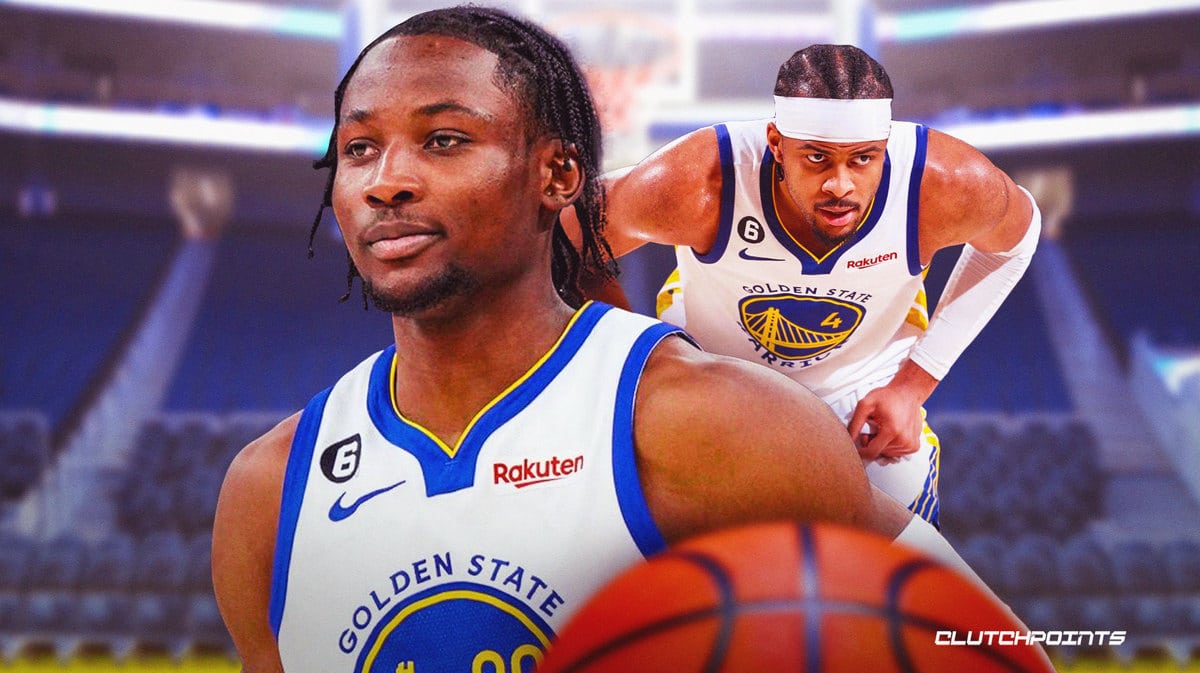 A few years back, the Warriors looked to start building a young core for the future through the draft while they were in the midst of their championship pursuits. Jordan Poole was taken in the 2019 NBA Draft, James Wiseman followed him in 2020, Jonathan Kuminga and Moses Moody were both drafted in 2021, and Patrick Baldwin Jr. was taken in 2022.
Now, Kuminga and Moody are the only two former first-round picks from this dream still remaining on the Warriors' roster. Both entering their third seasons, expectations are that they will continue to develop and be prime contributors off the bench during the 2023-24 season.
Kuminga is the one with heavy expectations, especially since he has not been afraid to complain about playing time. The soon-to-be 21-year-old is still very raw in terms of the player he can be moving forward, but his athleticism is off the charts and we've seen flashes of Kuminga's two-way potential.
There is opportunity and minutes to be had behind both Wiggins and Green, which is why it is realistic to assume Kuminga could start seeing upwards of 20 minutes per game early on in the season. The Warriors really need to do a better job of incorporating him and putting him in rotations where he can succeed. He's not like Draymond in the sense that he can facilitate an offense, but Kuminga is a very underrated defender who can be a menace to stop when he cuts to the rim on offense.
The team going out and getting Paul could wind up being the being the best thing to ever happen to Kuminga, especially since he plays well above the rim and can be a lob threat for the veteran point guard in pick-and-roll sets.
For Moody, the focus continues to be on his ability to impact the game as a "3-and-D" threat. Moody has always been a steady three-point shooter on the wing and his stature allows him to guard multiple positions. When the Warriors were searching for answers in the playoffs last season, he was the guy Steve Kerr trusted and ended up going to off the bench. In turn, Moody provided this team with a spark of energy and a sense of stability for a three-to-four minute rotation.
In order for the Warriors to get back to and win the NBA Finals, they will need their entire starting five healthy, there is no question about that. However, in order to win another championship, they will need a couple of impact players coming off their bench. Kuminga and Moody can absolutely be these two players, especially since they are younger and more athletic than everyone except Wiggins in Golden State's starting lineup.
If the Warriors were ready to give up on Kuminga and Moody, they would have traded one of them this offseason. The team still believes in the potential they both have, which is why we should expect them to hold key role on the bench this season.
Warriors' 2023-24 season outlook
With Steph, Klay, Draymond, Wiggins and Looney available, the Warriors are as good as any team in the league. Perhaps they needed to lose to the Lakers in the playoffs a handful of months ago in order to once again humble themselves.
Winning has become such a given for this team, that the excitement and thrill of the championship journey was lost. Golden State has sat at the top of the NBA world for over a decade now and every other team has adjusted their roster in order to try and solely beat them.
The mental strain of all the success the Warriors have had finally caught up to them, which is why things now look different heading into the new season. Getting extra rest and being able to have that moment of looking in the mirror and re-evaluating themselves is exactly what this core needed. We are about to see a Warriors team that has the same starting five, but there is going to be a new energy to them.
You know that saying, "Don't poke a sleeping bear?"
Well, people constantly talking down on the Warriors for what happened this past year and claiming that the dynasty is over is just more fuel for their fire. This group knows exactly what they are capable of and through the years, they have feasted on negative energy being throw their way. Curry, Thompson and Green play their best basketball when the odds are stacked against them, which is why they may very well end up being one of the final teams standing once again.
The Warriors are a championship organization, the spotlight is nothing new to them, and they have gone from the "hunted" to the "hunters." Winning is in the DNA of this franchise and if we know one thing about them, it is that Golden State will be back in the playoffs with a new edge to them during the 2023-24 season.